Car buyers are expecting the car buying process to evolve, which is why we developed Dynamic Desking. This powerful new DMS feature helps you maintain control of the sales process while appealing to the car buyer's demand for transparency and inclusion in the process.
You can utilize the cost-effectiveness and convenience of running a prequalification (or soft pull not affecting the car buyers credit score) credit report and let Dynamic Desking do the rest. Instantly see multiple deal structures with the ability to adjust term, interest rate and down payment to optimize the deal structure to ensure you achieve your target margin and the car buyer sees deal terms that align with their desired budget.
Multi-Vehicle Approvals
Dynamic Desking syncs with all active vehicle inventory. Once the initial deal structure is determined with down payment, term and monthly payment, you can view approvals on every active vehicle in inventory sorted by greatest margin opportunities.
This makes the selling process more fluid and dynamic, empowering you with more visibility into maximizing margin per deal. When you need to present to the car buyer, simply switch to "Customer View" to present options and close the deal. Customers can view vehicles on your lot that are similar to ones they are searching for and see different payment options on those cars based on their credit (soft or hard pull).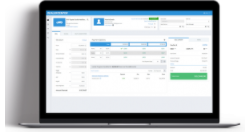 Share Deal Structures with Your Customers
Once you've finalized numbers or have multiple offers for your car buyer to consider, share it by either printing or emailing multiple deal options. Establish more trust and consumer confidence with offering transparency and inclusion to your customer by sharing and letting them decide which term works best for them.
What Dealers are Saying?
"It's an absolutely brilliant design with great functionality, it's so simple and empowers the manager with the knowledge to always know the maximize gross...I would prefer it over Reynold's Desking platform any day." -

Omar Salahieh, General Sales Manager at Toyota of North Hollywood
Ready to start using the new and improved DealerCenter Desking?
Don't wait. Contact us today! Request a Demo or Give Us a Call at 888-669-2669
* This blog post was originally published on 12/14/2018 on dealercenter.com