Dealers continue to shift their focus to online and mobile marketing vehicles to better reach, target, and engage the highly important and tech savvy millennial market. Pricing your cars aggressively and placing them on listing sites such as Autotraders, Cars.com, or CarGurus to get noticed is a great way to start - especially when it comes to customers of the future. However, just getting noticed is no longer enough. You will also need to highlight to your customers why they should buy from you, what separates you from your competition and how you can improve the car buying experience.
In fact, the customer experience is so vital to a sale these days, that many are willing to pay more for an improved process.
In 2014, Autotrader conducted a study of over 4,000 customers regarding the current car buying experience and the results showed that only 17 out of 4002, or less than 1%, liked the process as it is today.
Another report from earlier this year by AutoDealer Today, found that 70% of respondents expected to find the ability to configure a payment on a dealership website and 83% indicated that online technology would help them narrow down their vehicle choice to determine what is affordable. In addition, more than half said they would start the credit process online.
Consumer demands in relation to technology will only continue to grow and evolve, so investing in the process and procedures for a better customer experience is important to consider when making business decisions.
Many of today's customers have also been found to conduct their research and shop across multiple devices, including their laptops, tablets, and even mobile devices. From 2013 to 2015, there was a 19% increase in shoppers using multiple devices and that number will double by 2020. In addition, 64% of their time is now spent on mobile devices.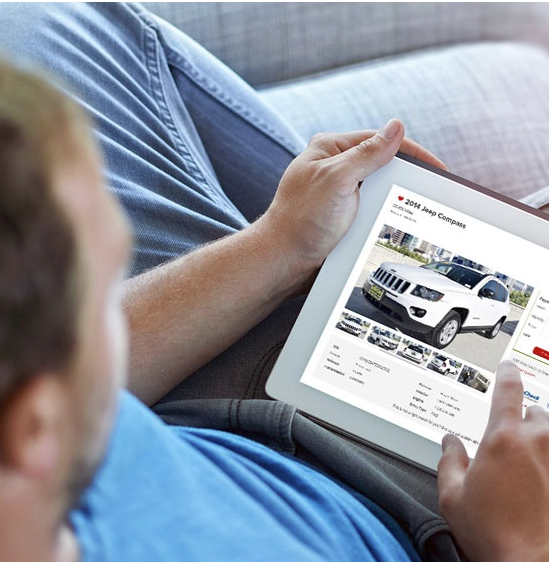 Customers are increasingly using their devices to shop from home before visiting the store.
With this increased focus on mobile use, dealers need to make sure that their websites are mobile friendly and responsive to different resolutions. Having a mobile friendly website will give customers a better browsing experience and also can improve your sites ranking in search engines, as mobile usability plays a factor in search engine algorithms.
In addition, take into consideration that consumers are looking for convenience and want to find the information they need quickly and easily. A simple way to accomplish this is to include all your business information on your site, such as your address and phone number. If you wanted to get more technical, you could include directions to your dealership, or even optimize your image sizes on your site so they load faster on slower mobile connections.
Overall, the market for used cars is pivoting to meet the needs and wants of the Millennial market. Consumers of the future want the ability to shop and research from the comfort of their own homes before visiting a dealership, so taking action to provide a more streamlined user experience is imperative.
* This blog post was originally published on 12/14/2016 on dealercenter.com