It's no mystery the car buying process is changing due to those ranging in ages between 18-35 – Millennial. Having been born in 1988, I belong to the largest and most misunderstood age bracket in the U.S.

Through my years of experience in the automotive industry, I've found many dealers find it difficult to differentiate between Millennial fact and fiction. That's why I'm here to offer insight into how we think and behave as consumers.

1. Instant Gratification Culture

Millennials are often branded as impulsive, but I'd argue the better term for this is compulsive. We actually take much longer to make a decision. We spend countless hours on Amazon analyzing reviews before purchasing a product we expect to arrive in two days. But once we've decided, we are ready to pull the trigger and get the process started. This "I want it now" mentality stems from much more than a millennial mindset.
With all the information we have available today, we find our tech savvy millennials become their own sales people by convincing themselves of what to buy through the research they do.

Advice to Dealers: Understanding millennials are compulsive means you understand they've done a substantial amount of research before visiting the dealership. The ideal sales route is to listen to what conclusions these customers draw from their research, then validate this decision and offer additional insight. However, let's back up a bit because the crucial technique starts before they visit the lot. Dealers must create the journey for millennials to find the dealership with the desired outcome of them visiting the lot.

This journey undoubtedly begins online. Car listing sites like Autotrader, Cars.com, and CarGurus are all practical marketing routes, but they only capture one segment of this journey.
Car shoppers often start on these hyper competitive listing sites, but it does not create a personalized path to your dealership. The goal should be to direct customers to your website. This is where social media becomes critical. It fills the gap between shopping on car listing sites before shopping on dealership websites.
This is called retargeting which is what Facebook and Instagram have mastered in their algorithms. Once these social media sites identify a user browsing for a new car, you can create ads on Facebook and Instagram that follow users every time they use the app. These ads point directly to your website and create a personalized path to your dealership.

See the diagram below as it shows how we fill the gap offline.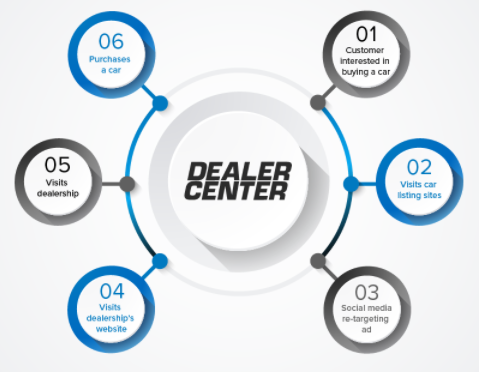 Mobile Phone Dependent
Now that we've covered the importance of social media, you can see the value mobile devices have to millennials. The average person spends 53 minutes a day on Facebook and Instagram. Millennials text as fast as they type, type as fast as they speak, and never feel anything urgent enough to warrant a call.
We rely on these devices for access to anything at any moment. For example, if I see a car on the street I like and wanted to know the price, I can find the answer on my phone instantaneously.

Advice to Dealers: There are two key takeaways from this a dealer should know. The first is what I mentioned in the last section as the importance of social media. If an average person spends 53 minutes on social media per day, you have plenty of opportunities to earn impressions with ads.
Every 15 or so posts on these platforms is followed by an ad. Now imagine a person doing a week of research to buy a new car, and how many times you can continue to target that person until they are brainwashed enough to pull the trigger. That's the magic of social media ad retargeting!
The other takeaway is understanding the process of communicating with mobile devices. Millennials prefer text, Generation X prefer email, and baby boomers prefer calls. Although I agree that a call covers more sales ground than a text, text can create a more inviting atmosphere for a millennial to engage with someone before they set up a call.

3. Keeping Up with the Joneses
Who said millennials were cheap?
I often hear comments that millennials prefer cheaper cars, or they don't care about brand names. If that were the case, luxury car manufacturers like Mercedes Benz wouldn't have created the CLA model. Nor would Audi have innovated the A3. These were designed for single, early career go-getters between the age bracket that matches millennials. I would assume they aren't selling many of these cars to a family of 4 or more.
The reason for this phenomenon is millennials are in love with status. Buying a new car, they may or may not be able to afford has monetary value to their social status. Snapping a photo in the driver's seat with the Mercedes Benz logo on the steering wheel is worth more social currency than its value in dollars.

Advice to Dealers: If your primary customer demographic is millennials, don't hesitate to stock flashy cars. This is simply debunking the myth that millennials gravitate towards buying or leasing a brand-new Toyota Corolla over purchasing a 3 or 4-year-old Mercedes. If you are new to this, don't revamp your entire inventory because luxury vehicles are much harder to get financing from indirect banks. Simply start with a few and survey if it enhances your customer's experience.

4. Latest Technology
Aside from the exterior flash of these vehicles, it's really what's inside that counts. I recently purchased a new car because I couldn't stand that my old car couldn't play my own music from my phone. To me, that was worth taking on a new payment and buying a car that made no financial sense just because Apple decided that the earphone jack was unnecessary for an Aux cord. Not to mention, my old car was still a 2011 model. You'd be surprised how late some car manufacturers were to add these types of technologies.

Advice to Dealers: There are certain features to look for as you acquire vehicles at the auction. Millennials pay attention to things like Bluetooth, reverse cameras, voice commands, premium sound, etc. It also makes it easier for your sales people to close the deal with these added features. It is crucial these features are advertised on all marketing sites. Don't get lazy when updating each Autotrader.com ad with every feature the car has. This could be the deciding factor of why we visit your dealership rather than your competitor.

5. Think Like A Millennial
This goes without saying, but it's likely most millennials are first time car buyers. Even if they weren't, the car buying experience is complicated even for people in the industry. I'm on my second car as a millennial and still fear the process. Historically dealers have been painted as hard negotiators ready to take advantage of an ill-informed customer. However, most don't realize times have changed. There are too many tools favor the customer like vehicle history reports and valuation tools cut into our margins. Thus, it's more valuable to understand from this perspective so you can earn the customer's trust and make them feel comfortable.

Advice to Dealers: Sales 101: Recognize the perspective of the customer. Listen and make them feel they aren't dealing with a sales person, but with someone there to help and educate them through the process. It is critical to validate their concerns before walking them through the process.

More importantly, subscribe to all the customer tools they are using. Vehicle history reports and valuation tools validate your car is the best deal a customer can get. These help you stay firm with price and transparent with customers. For instance, if you have a car listed at $12,999 and Kelly Blue Book values it at $13,500, this is a win to tell your customer they are saving $500 with you. Vehicle history reports confirm the car is in great condition providing peace of mind for the customer. Lastly, these products and tools are here to help you acquire the right cars before it's presented to a customer. Inventory acquisition is the bigger key to success than the deal you make with the customer.

In Conclusion
All in all, millennials can be a complicated one to understand at first glance. However, it's quite simple when you begin to understand how their habits affect their perspective. What is most important for a dealership is to understand your customer demographic.
Of the customers you get in a month, how many of them fall within that age range? These are all things your software systems need to help you comprehend. Once you have that data, recognize their buying habits and start to build your processes around it.
* This blog post was originally published on 04/30/2019 on dealercenter.com